Photographs of Putting a New Rubber Roof Under Our Widow's Walk
Bob Jensen at Trinity University
In 1977, after the Sunset Hill Hotel and Resort was nearly all demolished, our cottage (before it was ours)
was moved from the golf course across a tennis court and up to where the former hotel site.
This week I feature how a new rubber roof was placed under the widow's walk in Auguast 2017

What is now the Inn at Sunset Hill was once called the Annex where the SHH Resort help slept
This is now a small hotel just down from our cottage
Watch the video (our small white barn is visible beside the Golf Club House)

Helicopter Video: The Inn on Sunset Hill (just down from our cottage) ---
https://www.youtube.com/watch?v=A5cqUX0LcbU&t=9s
Our cottage is circled in red in the photograph of the Inn at Sunset Hill below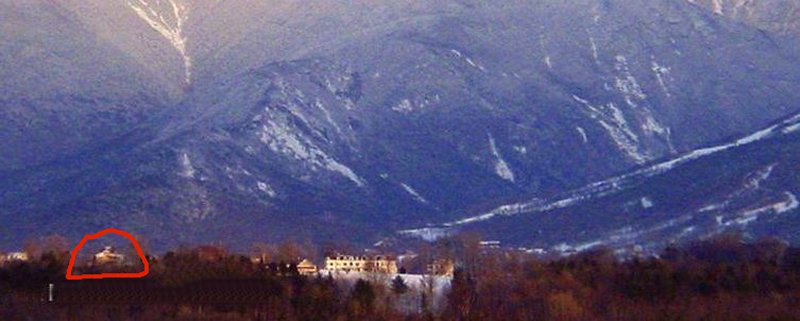 Our cottage was at one time a part of the historic Sunset Hill Hotel Resort
In an earlier edition of Tidbits I feature a brochure revealing part of the history of this resort and our cottage
http://faculty.trinity.edu/rjensen/tidbits/CottageHistory/Hotel/Brochure/Brochure1900.htm

This is what the SHH Resort looked like in the early 1900s
The resort had a big hotel, an annex for staff, a casino, a bowling alley, summer cottages, and
barns for the horses and carrages that brought people from the train depot to the resort.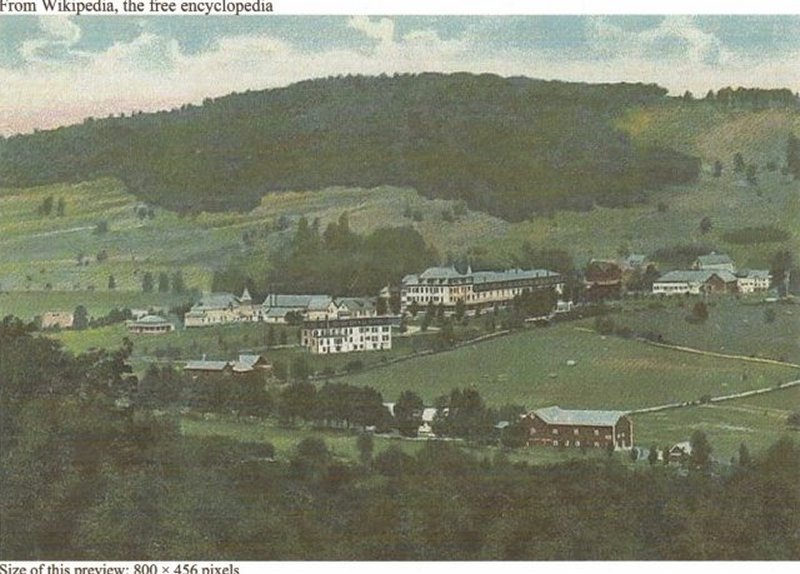 The red circle below shows the old site of our cottage alongside the golf course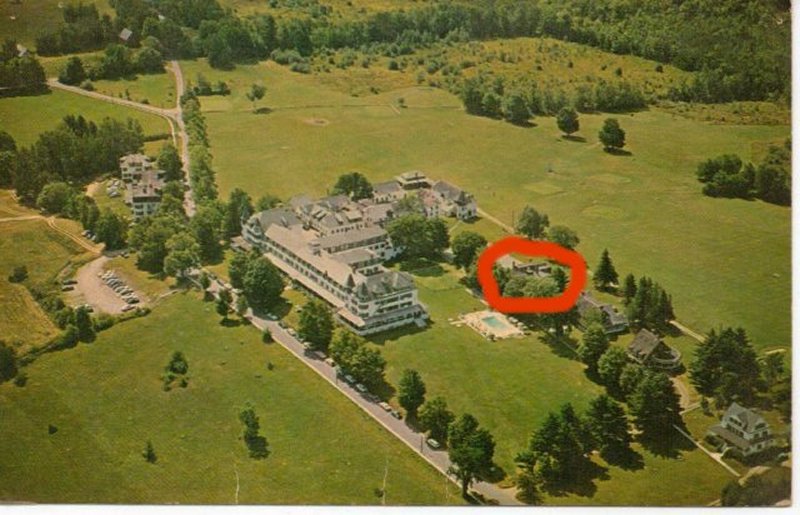 This is a focused view in the early 1900s of the inside of the red circle above
Our moved cottage was once the golf club house and later the tennis club house before becoming a summer (Pavillion) cottage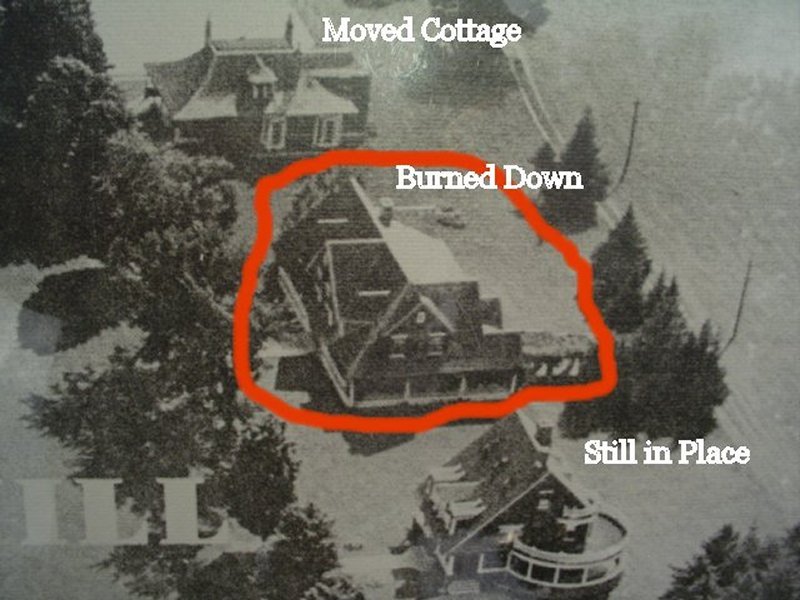 This is an old photograph of showing the original widow's walk of the cottage before it was moved from the golf course
to where the big hotel site after the big hotel was torn down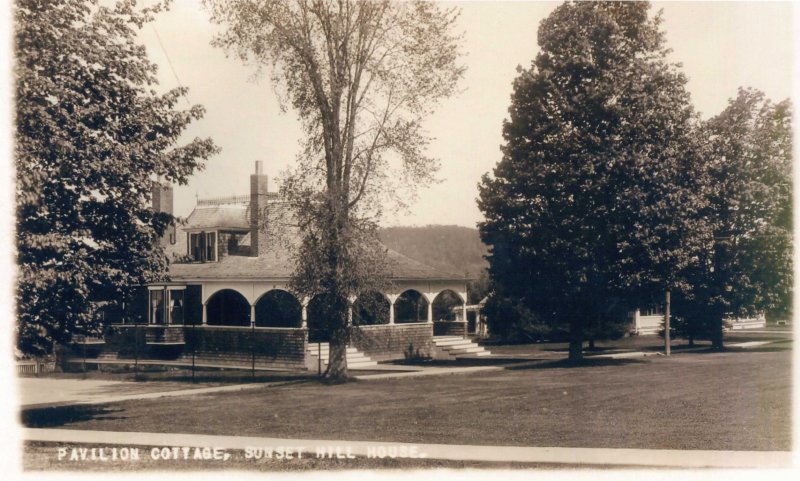 This is an enlarged view of that original widows walk in the 1900s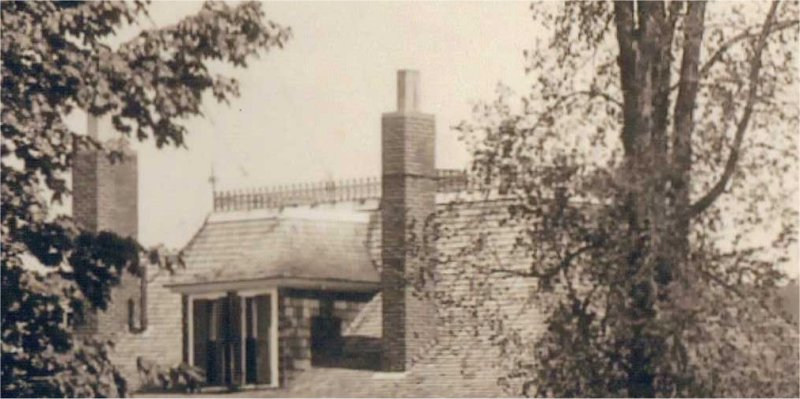 The picture below shows the windows walk that was newly reconstructed in 1977 after the collage was moved.
Note that the posts were less than three feet high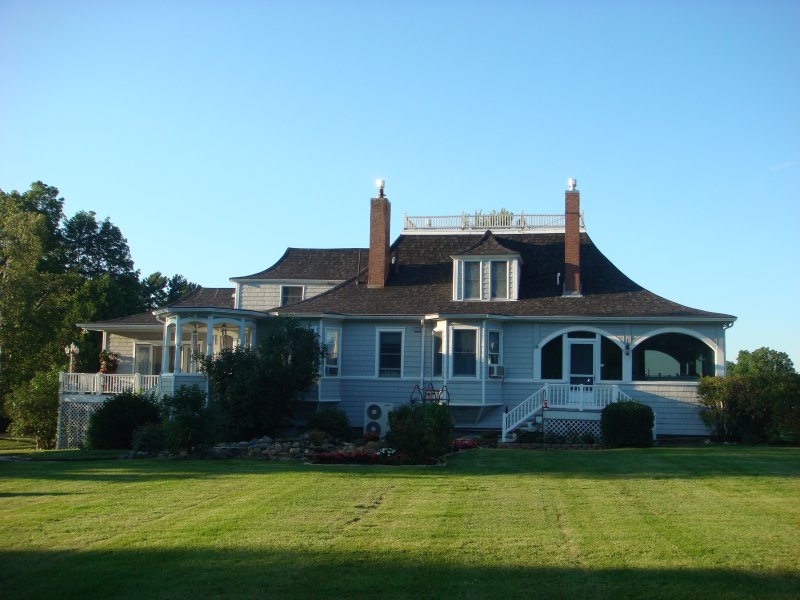 The rails of the 1977 widow's walk were so rotten that they would no longer hold paint
Im 2014 I replaced the widow's walk with vinyl rails and posts that would not need repainting in my lifetime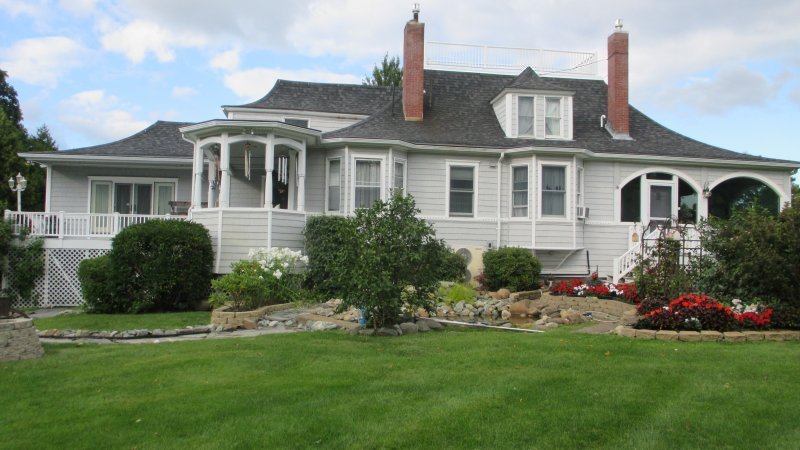 Note that the 2014 vinyl posts and rails are over a foot higher than the old 1977 wood posts and rails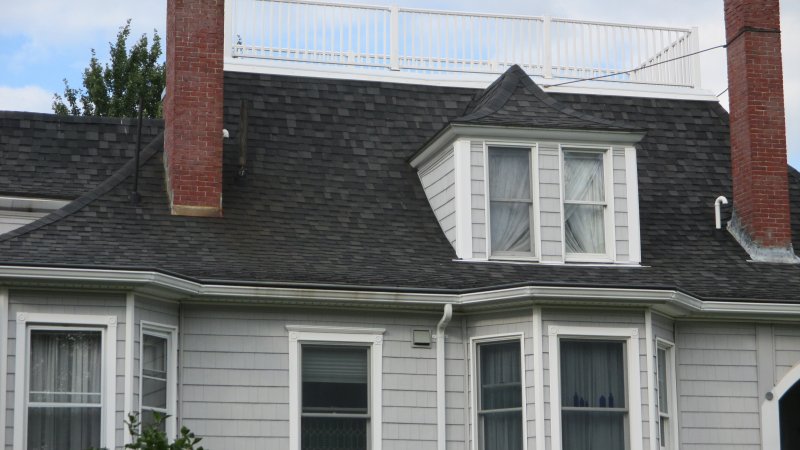 On July 2 of 2017 there was a memorable storm in Sugar Hill
Nearly Every Sugar Hill Road Damaged by an Early July Storm ---
http://www.wmur.com/article/nearly-every-sugar-hill-road-damaged-by-saturdays-storms/10255696
The video is updated daily and does not discuss the storm.
Two days after wild storms rocked the Granite State, some communities are still facing massive cleanup efforts.

One such community is Sugar Hill, which is no stranger to which damaged roads.

Sugar Hill Fire Chief Allan Clark said nearly every road in town is damaged and that much of the damage could have been prevented.

"It's a waste of money is the problem. If you're going to fix something, you should fix it right," Clark said.

Evidence of repairs completed just after Hurricane Irene are still visible on Carpenter Road.

The chief said that they could have predicted this would happen, and he blamed culverts that are just too small, despite the town's efforts to replace them.

"But they're restricted in the size of their culverts by (the Department of Environmental Services), so it can't be any larger than 25 percent of the culvert they're replacing. The problem with that is some of these culverts were very old and are grossly undersized," Clark said.

"The real stress is knowing that you're stranded. You've got this big cavern between your driveway and the road, and the road is pretty much completely gone," said Jeff Mealey, who was home when the storm hit.

Mealey said the experience was stressful, especially when a tree caught fire.

"The roots all got washed out, hit the wire and lit on fire. The next one lit on fire and I'd say in about 20-25 minutes, it all went out," he said.

Continued in article
Jensen Comment
The storm also damaged the part of our roof under the widow's walk
After the July 2, 2017 storm the rubber roof under the widow's walk had to be replaced.
In August a roofing company from Vermont brought in a crane and hauled off multiple layers of previous roofs under the window's walk
The layers may have been built up in over 150 years of this cottage's existence at two different sites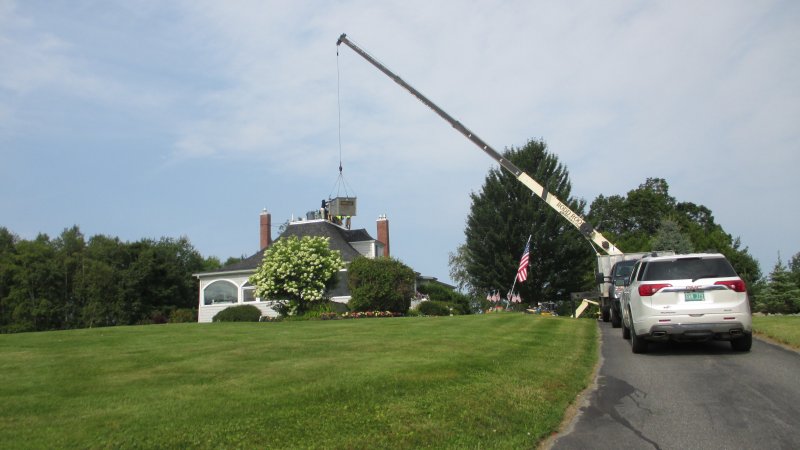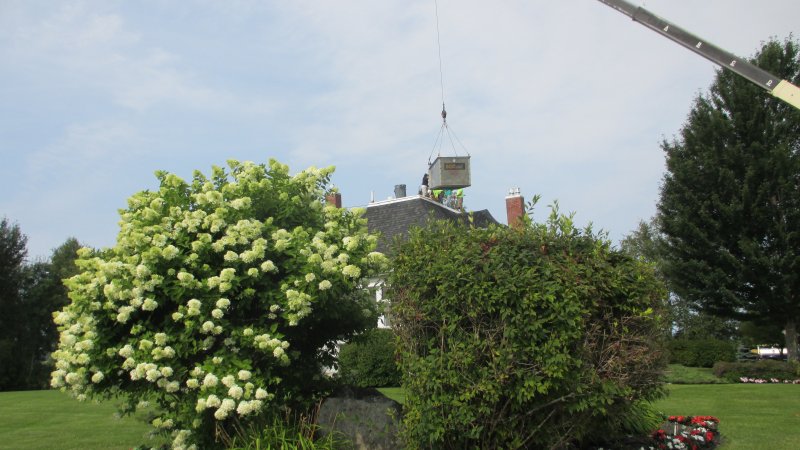 The woman beside the box is one of the two women roofers working with six men
She's the wife of the boss

With the new rubber membrane in place the four remaining men on the job put the new posts in place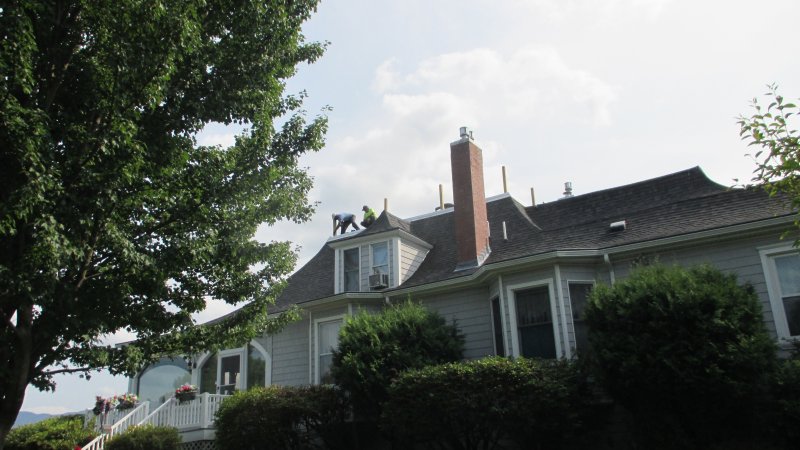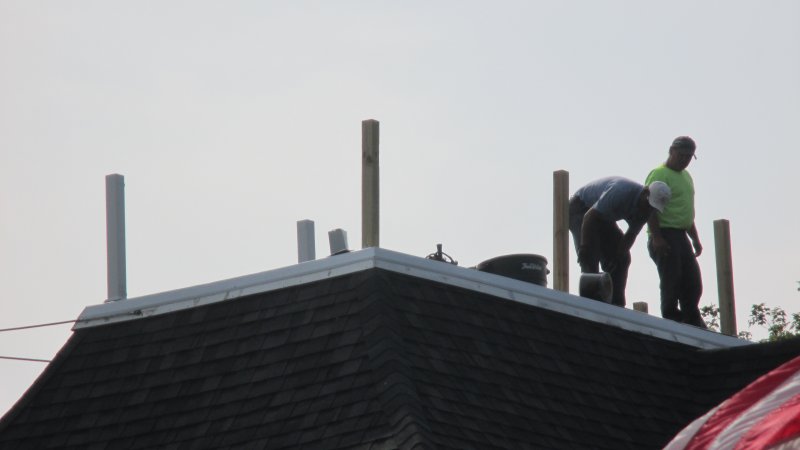 The white post attached to our mailbox helps us find the mail box in deep snow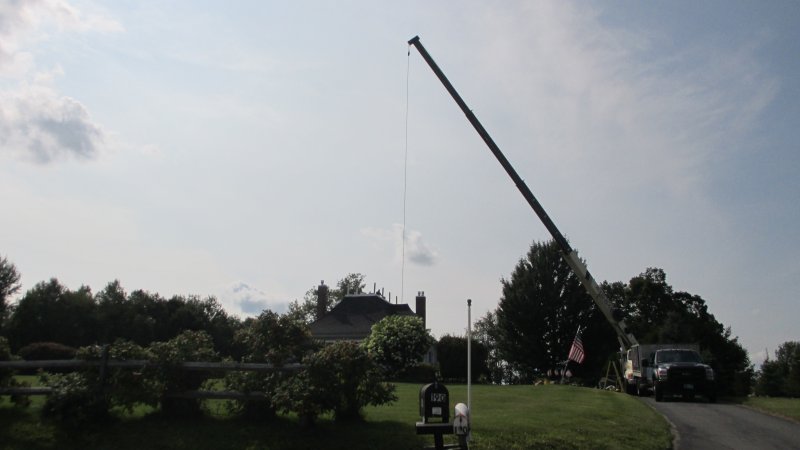 The roofing job took only one day at a cost of nearly $10,000
God bless Nationwide Insurance
This is what the restored widow's walk looks like
The 2014 rails were like new and were used once again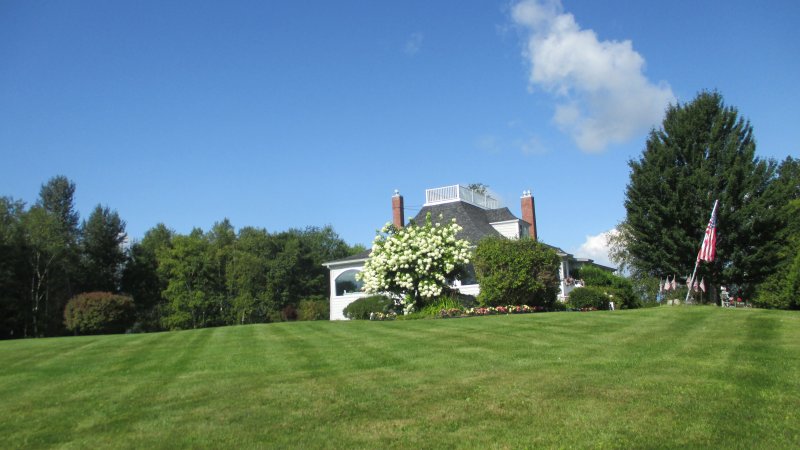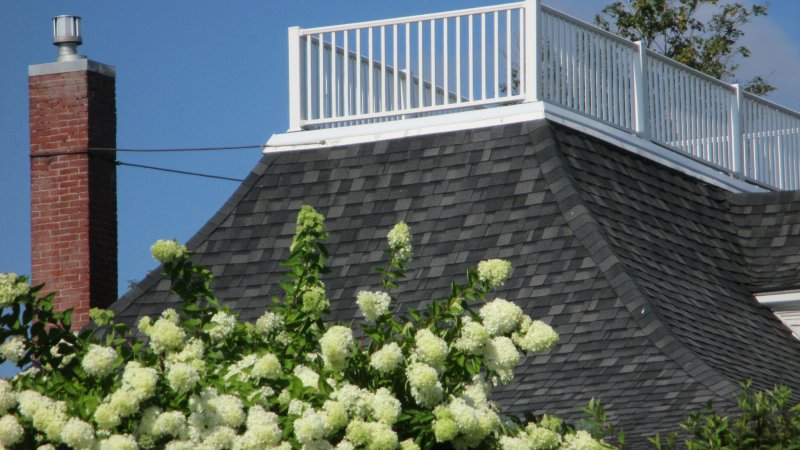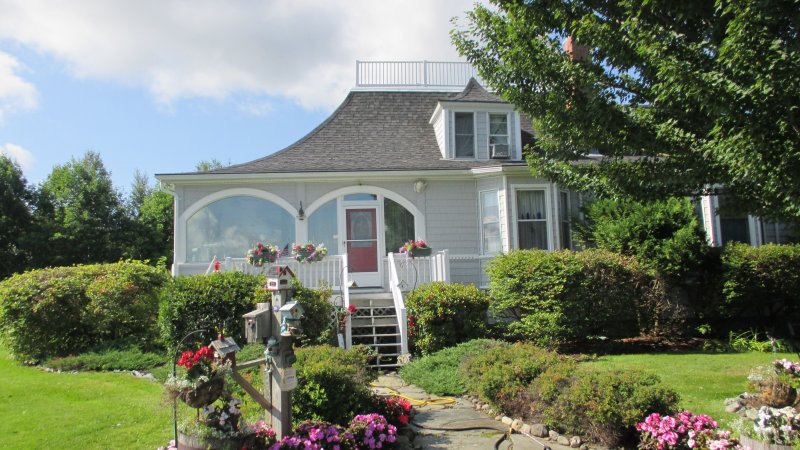 Cottage
Set 01 of my cottage pictures --- http://faculty.trinity.edu/rjensen/NHcottage/NHcottage.htm
Set 02 inside the cottage --- http://www.cs.trinity.edu/rjensen/Tidbits/2009/Tidbits090723.htm
Set 03 inside the cottage --- www.trinity.edu/rjensen/Tidbits/Cottage\Inside/Set03/Set03InteriorCottage.htm
Set 04 inside the cottage --- http://www.cs.trinity.edu/rjensen/Tidbits/Cottage\Inside/Set04/Set04InteriorCottage.htm


Indoor Plants --- http://www.cs.trinity.edu/rjensen/Tidbits/IndoorPlants/IndoorPlantsFavorites.htm
Amaryllis --- http://www.cs.trinity.edu/rjensen/Tidbits/2008/Tidbits080212.htm

The Inn on Sunset Hill (just down from our cottage) ---
https://www.youtube.com/watch?v=A5cqUX0LcbU&t=9s
Cottage History
Sunset Hill House Resort History Set 01 ---
http://faculty.trinity.edu/rjensen/tidbits/CottageHistory/Hotel/Brochure/Brochure1900.htm

After the Sunset Hill House Resort was nearly all demolished in 1973, our cottage (before it was ours)
was moved in 1977 from the golf course across a tennis court and up to where the former hotel site.
I show pictures of the preparation work prior to the moving the cottage and its four fireplaces
http://faculty.trinity.edu/rjensen/Tidbits/CottageHistory/OldSite/Set01/Set01.htm

Next I show pictures of the move to the new site
http://faculty.trinity.edu/rjensen/Tidbits/CottageHistory/NewSite/Set01/Set01.htm

Next I show the pictures of a 1890 spectacular fire on one of the remaining three cottages
www.trinity.edu/rjensen/tidbits/CottageHistory/Fire/FireSet01.htm

Iron Ore --- http://www.cs.trinity.edu/rjensen/Tidbits/2007/Tidbits070924.htm

Sunset Hill House Hotel: The American Dream ---
http://www.cs.trinity.edu/~rjensen/temp/SunsetHillHouse/SunsetHillHouse.htm

Part 1 of the History of the Homestead Inn Torn Down in 2015
http://faculty.trinity.edu/rjensen/Tidbits/Hotels/Homestead/Set01/Set01.htm

Part 2 of the History of the Homestead Inn
http://faculty.trinity.edu/rjensen/Tidbits/Hotels/Homestead/Set02/Set02.htm
More of Bob Jensen's Pictures (including pictures of our mountains) and Stories
http://www.trinity.edu/rjensen/Pictures.htm
Bob Jensen's photo set on White Mountain Hiking Trails ---
www.trinity.edu/rjensen/Tidbits/HikingTrails/Set01/HikingTrailsSet01.htm
On May 14, 2006 I retired from Trinity University after a long and wonderful career as an accounting professor in four universities. I was generously granted "Emeritus" status by the Trustees of Trinity University. My wife and I now live in a cottage in the White Mountains of New Hampshire ---
http://www.trinity.edu/rjensen/NHcottage/NHcottage.htm
Bob Jensen's Blogs --- http://www.trinity.edu/rjensen/JensenBlogs.htm
Current and past editions of my newsletter called New Bookmarks --- http://www.trinity.edu/rjensen/bookurl.htm
Current and past editions of my newsletter called Tidbits --- http://www.trinity.edu/rjensen/TidbitsDirectory.htm
Current and past editions of my newsletter called Fraud Updates --- http://www.trinity.edu/rjensen/FraudUpdates.htm
Bob Jensen's past presentations and lectures --- http://www.trinity.edu/rjensen/resume.htm#Presentations
Our address is 190 Sunset Hill Road, Sugar Hill, New Hampshire
Our cottage was known as the Brayton Cottage in the early 1900s
Sunset Hill is a ridge overlooking with New Hampshire's White Mountains to the East
and Vermont's Green Mountains to the West
Bob Jensen's Threads --- http://www.trinity.edu/rjensen/threads.htm
Bob Jensen's Home Page --- http://www.trinity.edu/rjensen/