In 2017 my Website was migrated to the clouds and reduced in size.
Hence some links below are broken.
One thing to try if a "www" link is broken is to substitute "faculty" for "www"
For example a broken link http://faculty.trinity.edu/rjensen/Pictures.htm
can be changed to corrected link http://faculty.trinity.edu/rjensen/Pictures.htm
However in some cases files had to be removed to reduce the size of my Website
Contact me at rjensen@trinity.edu if you really need to file that is missing
History Notes on the Dourte Family in Swea City Iowa
Bob Jensen at Trinity University
Reynolds, Iowa was platted and renamed Swea City in 1893 --- https://en.wikipedia.org/wiki/Swea_City,_Iowa
My mother's father was Christian Granville (Grant) Dourte born amongst the sand hills of western Nebraska. I'm not certain of the date, but it must've been somewhere around 1870. I'm also not certain of just when or why he wound up living on a farm in Iowa's Seneca Township as a young man. His eventual lifelong wife, Mamie Kerr, was born in 1877 and raised on the nearby William and Eliza Kerr farm closer to what eventually became Swea City, Iowa. For a short time before getting married Mamie attended what in those days was called normal school. Somehow Grant Dourte and Mamie Kerr met, married, and eventually settled on a farm Grant purchased about nine miles north of Swea City.
You can read about my grandmother Mamie (Kerr) Dourte at
Short story entitled My Glimpse of Heaven: What I learned from Max and Gwen
http://faculty.trinity.edu/rjensen/max01.htm

Grant and Mamie (often pronounced Mame by family and friends) had six Dourte children.
Alva Ray (1896-1918 died young from pneumonia)
Clifford L. (1898-1951 buried in a country cemetery north of Swea City)
Zelia (Zella) Irene (1901-1908 buried in a Seneca Township country cemetery)
William Granville (1903-1988 buried in Wenatchee, Washington)
Donald C. (1910-1975 buried in Wenatchee, Washington)
Irene Mamie Jensen (1915-1996 buried in Algona, Iowa alongside my father Vernon Jensen)
Grant Dourte became a wheeler dealer in farm land, horse trading, and horse breeding. His favored stallions were French draft horses called Percherons ---
https://en.wikipedia.org/wiki/Percheron
Sometime around 1900 he built and operated a livery stable not far from the creamery on the main street of Swea City Iowa. He also bought a farm on the southwest edge of town where he built a five-bedroom house and detached barn/garage near the south end of what later became known as Sixth Street. My grandmother raised a few chickens that roamed free in the apple orchard west of the house. She could kill a chicken with the flick of her wrist. Their daughter Zelia (sometimes in the records as Zella) died at age seven in 1908 on the dining room table of that house from a burst appendix before an operation commenced. This was before my mother, Irene Mamie Dourte, was born in 1915. The farm on the southwest edge of town eventually was platted and became known as the Dourte Addition to Swea City. The big house was sold by my parents after my grandmother died in 1968. My parents bought the estate's Dourte farm north of Swea City. I inherited that farm in 2001 and sold it a year later since I was living out of state.
Grant Dourte's sister Ophelia married a cross-eyed commercial engineer in Swea City named Benjamin Frank Rhodes and lived in a cute and very tiny cottage on the south side of town. I was a child after Frank and Ophelia lived as an elderly retired couple. I gagged every time I had to visit their cottage. For some reason it was never aired out and smelled like a death house. They probably got used to its stuffiness. I never got used to it.
Grant Dourte invested in registered draft horses and farm land in the early 1900s. In those days Swea City had a passenger depot. Long before I was born my grandfather traveled by train to Chicago to buy and sell horses. Some of the Percheron horses I found by searching "C.G. Dourte" in online Percheron registries included the following horse names and registration numbers:
HIEROGLIPHE 60338
Dora Queen 106788
LE ROO 24581
Neron 22503
Plendor 27161
Stuntney Upstart 10576
(I'm certain there were many others)
His best known horse was Hierogliphe --- the 1910 Iowa State Fair Grand Champion Percheron Stallion.
His family tree can be found at http://www.allbreedpedigree.com/hierogliphe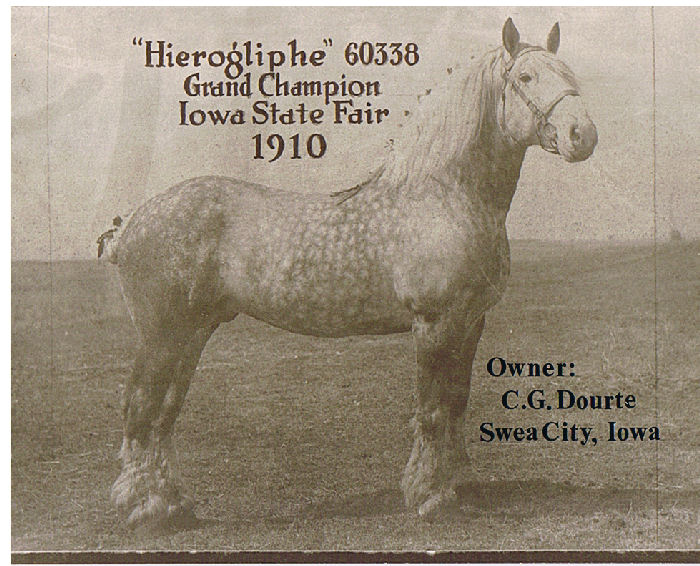 I'm not sure just when my grandfather's livery stable burned down, but it was long before I was born and was especially tragic since 15 valuable draft horses perished in the fire. I think that's about the time my grandfather got out of the horse breeding and horse trading business. However, he still invested in farm land. Before the Swea City Bank closed in the Great Depression, Grant Dourte owned nine farms on paper. During the Depression he managed to keep the old farm nine miles north of Swea City and the big house in town. During the Depression he raised navy beans and potatoes. He had a generous heart and kept some Swea City families alive by supplying them with those beans and potatoes.
After the Depression Grant Dourte had a farm real estate brokerage business that he operated out of his house in town. I remember that he had a big yellowish sign on the back of his car that advertised his business. It was easy to read the sign when he drove by, because Grant Dourte had a reputation as the slowest driver in Kossuth County. I lived with my grandparents in Swea City during long periods of my youth summertime. I remember how agonizingly slow it was when my grandfather took me fishing.
Before he crashed behind a run-away team of horses Grant Dourte had a reputation of being the fastest driver in Swea City. All that changed when the run-away team turnover broke nearly every sizeable bone in his body. He never drove anything fast after that.
Grant Dourte was such a kindly man. As a younger child I had accidentally knocked the radio off the desk and cracked the case. My loving grandfather declared that he thought it worked better with a cracked case.
I remember when he and my Uncle Cliff (who lived at home) and I huddled around a radio in the den listening to the prize fight when an aging Joe Louis defeated Billy Conn in 1946 (when I was eight years old). We sipped on buttermilk. I hated the taste of buttermilk then and still can't stand the stuff. My grandfather always kept a bottle of Old Crow hidden in the barn, but Grandma Dourte, being a stalwart Methodist, never let him bring liquor into the house. I don't think Grant Dourte ever drank much. His never-married son Cliff, the town's house painter, however, spent a lot of time drinking beer in a downtown tavern. I remember the time my grandfather was called to take Cliff from the tavern to the Fairmount Hospital with a broken jaw.
When Cliff died in 1951 on the living room sofa after suffering from a burst aorta I think my Grandfather's spirit broke. Not too long afterwards my grandfather died in the Fairmount Hospital from an enlarged heart. Alongside my Grandmother Dourte and my parents I was in the hospital room when he passed on. My grandmother lived on for quite a few years as a widow in the big house. I could not visit her as often after I went off to study at three universities. My parents put her in an Algona nursing home in 1961 where she lived until 1968 when I was an accounting professor at Michigan State University. I'm saddened by my promises years earlier, as a child, to never let anybody put her in one of those places. But her condition was so bad that a nursing home eventually was the best place for her. She lived to be 91 years old.
One thing I recall about their big house in town was that the door key was lost not long after the house was built. During all the years thereafter their house was never locked even when they were out of town. This says something about the times, including those times when hobos traveling the rails knew that there was almost always a free hearty dinner to be had on the back porch of the Dourte house in Swea City, Iowa.
My grandmother and grandfather now rest in peace in that country cemetery that's only a short distance from the farm where my generous grandfather raised navy beans and potatoes to feed hungry folks in Swea City during the Great Depression.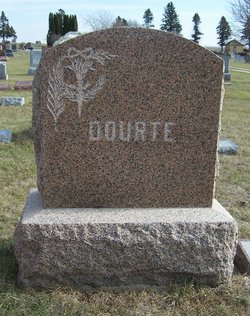 January 8, 2016 reply to Lavonne Geerdes by Bob Jensen

Hi Lavonne,

When I was a child staying often with my grandparents I had a crush on a slightly older girl named Lavonne Lund who lived on the very edge of a cornfield in the very southwest corner of Swea City. She had a sister my age named Mary Anne, but my crush was on Lavonne. Her dad was a carpenter.

Across from the Lund house was a basement house that did not have a top. It was a real mess inside where Jimmy Church and Billy ? (Moore I think) lived out their old age. Billy was a tiny Spaniard who wore the same filthy tuxedo, wilted white shirt, and black tie when he walked daily around the town. Jimmy Church was heavy and could barely walk. He suffered from being gassed in the trenches of World War I.

Billy's collar was a detachable celluloid collar ---
https://en.wikipedia.org/wiki/Dickey_(garment)#Dickeys_.E2.80.93_celluloid.2C_cardboard.2C_and_cloth
Detachable collars in those days made a lot of sense since it was easier to clean collars without having to wash and iron a white shirt every day. Also white shirts lasted much longer since the first thing to go on a regular white shirt is usually the collar.

Grandpa's brick barn may still be standing. After he sold part of the farm and brick barn he built the Dourte house about a block east of the brick barn on what I think is the corner of Sixth and Ash. When I was a kid his former farm with the brick barn was owned by a family named Northern. I recall that brick barn very well because when I was a little boy I fell from the hayloft down to the concrete floor of the milking parlor. Mr. Northern had to revive me with cold water. Boy did I end up with a welt on my forehead.

I think I was exposed to things in Swea City that aren't in the record books. There was no constable in town, and I cannot ever remember seeing any sign of law enforcement in Swea City. There was a volunteer fire department, but I don't recall witnessing any fires in Swea City. I do remember when the downtown movie theater burned down spectacularly in Algona. Of course Algona had a sheriff and the Kossuth County jail.

Times have changed a great deal since the years following World War II. Across from our apple orchard in Swea City was a real character that we knew as Grandpa Zing. He had a long beard down to his belly and lived alone in a filthy small house. He spread lard on toast and tried to convince me that flies really were not dirty since they did not leave a trail on the window glass.

Grandpa Zing had a push cart that he walked daily around the town collecting junk that accumulated in enormous piles behind his house. I don't think he ever sold anything. He just "collected." I don't know what he lived on, although his daughter Altee living next door for a time was the town's prostitute even though she had an alcoholic husband called Snouse.

One of my friends died as a child in the city park while playing kick-the-can. He hit is head on the flag pole. His father was the town's plumber.

My closest playmate nearby was Georgie Heathershaw. His dad, Sam, was the town barber and his mother Leila was deaf. I remember when we were maybe seven years old when Nancy Geyer stole a condum from her father's sock drawer. She showed it to Georgie and me when we were playing in the loft of the Geyer garage-barn. We unwrapped it but did not think it was a good design for a balloon. Nancy's dad owned the hardware store.

In those days Swea City had a three gas and auto repair stations, a John Deere dealer, a Ford dealer, a dime store, a hardware store, Bradford's clothing store, a drug store with an ice cream and soda fountain, a tavern, and Applequist's grocery store that made deliveries to my grandmother. On a wall phone with a crank she would place her daily orders. Mr. Applequist delivered the groceries that my grandmother always shared with hobos who came to her back porch.

We had an ice box and an iron stove in my Grandma Dourte's big kitchen. Ice was cut out of a nearby river and stored in straw. Milk must have been delivered by the creamery, but I honestly cannot remember glass bottle milk delivery in Swea City. I do remember that a horse and milk wagon delivered bottles of milk to where I lived with my parents eventually in Algona after my dad left the Seneca farm where he partnered with his brother. I do remember milking cows on the farm (I was never good at it), separating out the cream, and having the steel milk cans being picked up for the creamery.

There was also creamery and an egg hatchery run by a man who liked little boys if you catch my drift. The odd thing was that a lot of folks, including me as a child, knew about his inclinations but nobody did anything about it. Children, especially little boys, just took the risks of living while growing up.

When my dad, Vernon, left the farm (where he partnered with his brother Millen Jensen) he joined his cousin Martin Jensen's oil jobber business. For a time my dad delivered fuel to Swea City area farmers until he moved to the company headquarters in Algona and became the territory manager for a number of small town gas stations and bulk plants, one of which was Upsahl's D-X station across from the theater in Swea City.

Between when we lived in a parsonage beside our Seneca farm and when we lived in Algona, my parents rented a small house beside the Lund house in Swea City for less than a year. This was before I was old enough to go to school.

My mom and dad were married in the Dourte house living room in 1937. Around 1930 they met in what became your father's movie house. However, in 1930 it was a roller skating rink. My mother was only 15 years old when she first met my father while roller skating. She became a really fine pianist who gave piano and organ lessons in Algona for over 30 years. She also played the big Wurlitzer in the Emmetsburg Roller Rink on Saturday nights and the small church organ on Sundays at Algona's First Lutheran Church. I rode in the car with her every Saturday so I could roller skate and eat the delicious Emmetsburg Made-Rites after skating before she drove us home late at night.

What was amazing is that my mother (Irene) could play pop tunes without the music. She could play by ear or sight-read music. Her piano teacher was an old maid in Swea City known as Iva Moats (sp?). I remember the heavy set Iva. She drove about town too fast in her own old car. As I recall Iva Moats lived in a frame house alongside Highway 9 on the east side of town. She visited the Dourte house quite often. What made Iva a good piano teacher was that she taught music theory as well as how to play. My mother could transpose music at the drop of a hat. Her only child was a hopeless case as far as learning the piano goes. He became an accounting professor ---
http://faculty.trinity.edu/rjensen/

It may be some time before we get back to Iowa. My wife Erika had 15 spine surgeries and is unable to travel. But if I ever do get back I will most certainly visit with you and tour your Historical Society's old frame house

Thanks,
Bob

Stories About Growing Up

· Short story entitled My Glimpse of Heaven: What I learned from Max and Gwen
http://faculty.trinity.edu/rjensen/max01.htm

Sequel: About My Grandfather Dourte with a link to Hierogliphe's ancestry
A short story about my grandfather Christian Granville Dourte
http://faculty.trinity.edu/rjensen/Tidbits/FamilyHistory/SweaCity/Dourte.htm


· Short story entitled Mrs. Applegate's Boarding House (with Navy pictures)
http://faculty.trinity.edu/rjensen/Applegate.htm



· A Year 2000 message of love from my wife, Erika.
She describes how a Munich street urchin became Cinderella filled with love and joy --- http://faculty.trinity.edu/rjensen/erika/xmas00.htm



· A Year 2001 message of love from my wife, Erika
http://faculty.trinity.edu/rjensen/erika/xmas01.htm



My Dad's Story About His First Trip Away from the Farm
http://faculty.trinity.edu/rjensen/vernon.htm

I see from my house by the side of the road

By the side of the highway of life,

The men who press with the ardor of hope,

The men who are faint with the strife,

But I turn not away from their smiles and tears,

Both parts of an infinite plan-

Let me live in a house by the side of the road

And be a friend to man.
Sam Walter Foss (1858-1911)
More of Bob Jensen's Pictures and Stories
http://faculty.trinity.edu/rjensen/Pictures.htm